Camier Happy with Fourth for MV Agusta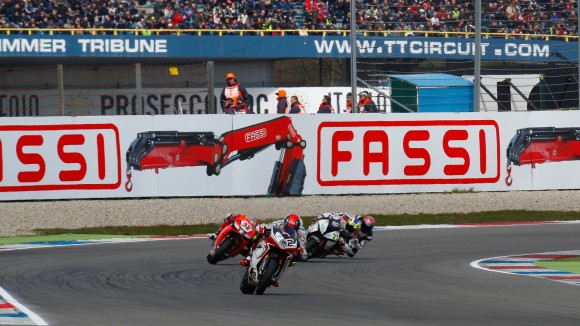 MV Agusta rider Leon Camier produced an excellent ride from 13th on the starting grid to take fourth place in Race 1, and felt he could have possibly achieved more had he not been caught up in a battle with BMW riders Jordi Torres and Markus Reiterberger.
The Briton eventually got the better of both riders on his MV Agusta 1000 F4 and was able to cross the finish line behind the podium finishers, improving his position in the overall standings to 12th. The result proves a fantastic bounce-back for MV Agusta after MotorLand was unkind to Camier.
"It was pretty hard from the start because we had a battle with the BMWs, I felt like I kept getting dragged back all the time, but I also felt my pace could be quite good," said Camier. "As soon as I managed to get in front of them and put a gap there my pace was pretty good, similar to the leaders and sometimes a little faster.
"I think tomorrow it could be a bit more difficult, we need a good start and then to be strong in the first few laps, but that is really difficult here. I will try my best and see what happens. I'm really happy for everyone at MV Agusta considering all the hard work everyone has put in."
Race 2 sees lights out at 13:00 local time (GMT +2) on Sunday, for Camier to fight for another great points finish.
Bron: http://www.worldsbk.com